A CUSTOMISED


RECYCLING SOLUTION
Protecting the environment is a major concern at Klap. As a manufacturer of single-use health-protection products, we are well aware of the waste we generate. And because we're not ones to shirk our responsibilities, we've created an innovative, sustainable, and long-term solution that gives this waste a second life.
Our turnkey offer for companies invites you to join a virtuous circle that creates added value.
>I BECAUSE THERE CAN ALSO BE A CIRCULAR ECONOMY IN THE HEALTH SECTOR.
We've developed a complete recycling system – from collection to recovery – that takes care of a wide range of disposable health-protection equipment.
«ARE YOU MORE POLYPRO OR POLYETHYLENE? »
>I WITH US, NO NEED TO BE JEALOUS: WE RECYCLE BOTH.
Polypropylene and polyethylene (that's "PP" and "PE" for insiders) are two plastic materials used in the composition of disposable respirator masks (surgical masks and FFP2 NR masks), other single-use personal protective equipment (medical caps, gowns, shoe covers, sheets, etc.), and certain flexible plastic packaging.
A
VIRTUAL & GREEN

CIRCLE FOR MANAGING YOUR SINGLE-USE WASTE
Local production and sale
Sorting with the Collect Box

FRENCH RECYCLING CHAIN
GUARANTEED TRACEABILITY
Swiss RECYCLING CHAIN
GUARANTEED TRACEABILITY
Local production and sale
Sorting with the Collect Box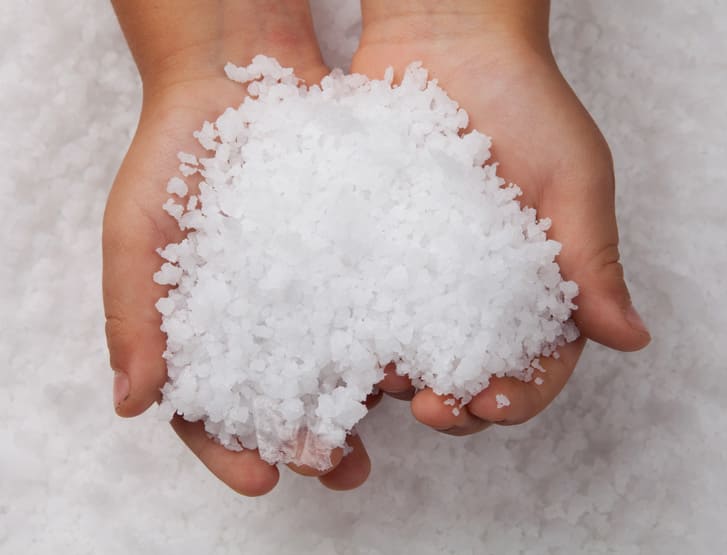 Here are the main links in our recycling ecosystem:
1- COLLECTION
After inspecting your company or collective, we work with you to define your needs and set up the most suitable collection solution (equipment requirements, collection frequency, etc.). We ensure the traceability of your waste: from collection to recovery, you enjoy precise, down-to-the-kilo monitoring, as well as a report on environmental impact.
2- TREATMENT
Once we have collected it, we transport your used protective equipment to a storage and sorting centre.
Made up of polypropylene and flexible polyethylene, the waste is ground then steam-decontaminated using a patented process. The materials are then automatically sorted through flotation, magnetic separation, or hydrodynamics. All these actions have no environmental impact (no chemical treatment) and no impact on the material (no UV- or Gamma-ray treatment).
3- RECOVERY
The raw material obtained is then transformed using the extrusion-filtration-granulation technique. To put it simply: the plastic is melted to take the form of small balls or granulates which will in turn be used as raw material to make new items out of recycled plastic.
And to close the loop, we offer to transform the waste deposit recovered in your company into a plastic product that meets your needs for the purchasing of recycled products.
LET'S BE RESPONSIBLE TOGETHER
Become part of a circular economy with high added value by entrusting us with your used disposable protective equipment and PP- and PE-waste. Collection, cleaning, sorting, transformation, and recovery: we manage the entire recycling process using innovative technologies that minimise environmental impact.
By becoming our partner for the recycling of your surgical masks and other recyclable plastic waste, you're actively participating in a responsible and global approach, and supporting sustainable development. For your personal protective equipment needs, you're choosing a responsible company with Klap – one that:
>I guarantees a short production cycle and supply chain for health-protection equipment with a low carbon footprint;
>I allows you to contribute to the circular economy thanks to its
reprocessing activity for used masks and other disposable health-protection equipment, and
>I gives you the opportunity to support social/solidarity economy organisations to which we entrust certain stages of the recycling process.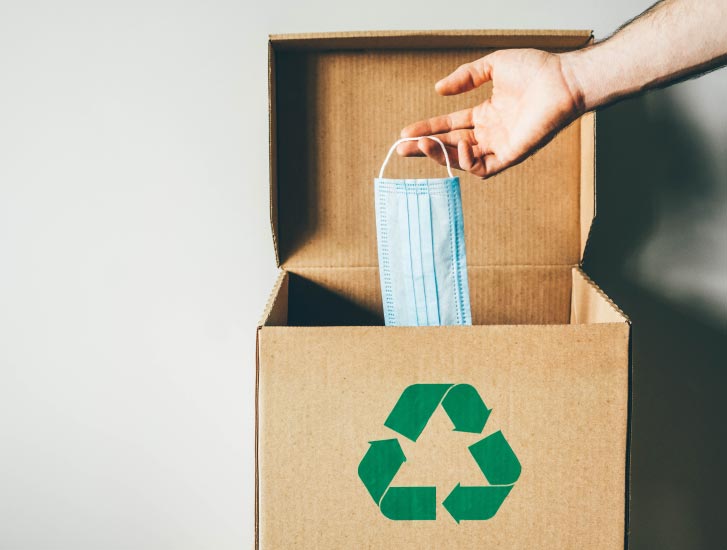 >I DO YOU SHARE OUR VALUES? THAT'S GREAT NEWS!
By contributing to our recovery activity for used health-protection equipment, you bring meaning to your corporate vision thanks to a high added-value CSR process. You are tangibly (and proudly!) showing your company's commitments to social responsibility.