AT THE HEART OF OUR PROTECTIVE GEAR:

meltblown
Klap's commitment is to manufacture locally. But in order to sustainably reinvent the industry of disposable protective gear, we wanted to control the entire manufacturing chain and produce our own filter media: meltblown.
Having invested in a machine to make meltblown enables us to guarantee our customers a secure supply of protective equipment and the technological control of the entire mask-manufacturing process.
« INDEPENDENCE, PROXIMITY, QUALITY: THE TRIPLE MELTBLOWN EFFECT. »
In a responsible and visionary approach, choosing proximity and quality thanks to a short production circuit was eminently clear to us. We have chosen to project and commit ourselves by giving ourselves the means to ensure the independence and stability of our production, the development of our expertise, and our contribution to a sustainable industrial sector that creates local jobs.
Klap is one of the 10 companies whose project the French government selected as part of the Call for Expressions of Interest. This procedure aims to structure a national industrial sector for the manufacturing of filtering raw materials used in the production of protective masks.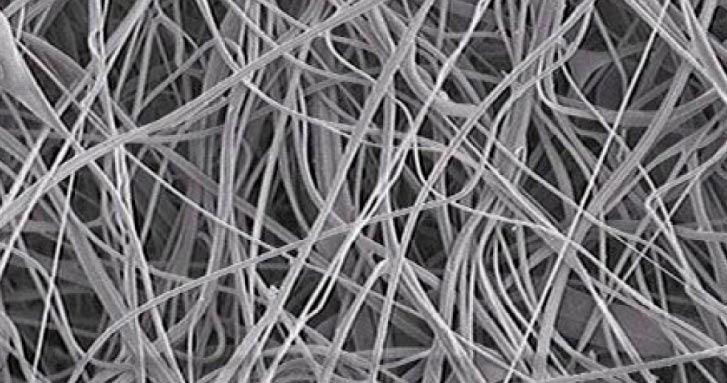 MELTBLOWN: INSTRUCTIONS FOR USE
A blend of the English words "melt" and "blown", meltblown is a non-woven material made by blending melted and blown micro-fibres. It is used as the main component in respirator masks for its excellent performance in terms of both filtration and breathability.
It is also used as a filtering material for other medical or technical applications: disposable clothing (gowns, medical caps, etc.), sheets and covers, nappies and hygiene protection, insulating or filtering materials for construction and industry, etc.
Between paper and fabric, meltblown is a concentration of qualities: it is light, breathable and, above all, highly filtering. It is an extraordinarily versatile material (polypropylene, polyesters, bio-sourced materials, etc.), and its ability to be combined with other supportive materials (spunbond, plastic coatings, textile supports, etc.) allows the creation of a technical textile with multiple applications.
THE ROLE OF MELTBLOWN IN SURGICAL AND FFP2 NR MASKS
The qualities of meltblown naturally make it an essential component of a disposable respirator mask – whether a surgical mask or an FFP2 NR mask.
As you can see, meltblown has a high filtration capacity. During the manufacturing process, the material it is made up of is stretched to the maximum until it forms a uniform weave of very fine filaments (of 0.1 microns in diameter).
As we know, viruses carry from one person to another through the emission of droplets (up to 2 metres) and aerosols (up to 4 metres). These droplets and aerosols can be up to 5 microns in diameter. Thanks to meltblown, a health-protection mask filters at least 95% of aerosols of 3 microns in diameter if it is a surgical mask, and at least 94% of aerosols of 0.5 microns for an FFP2 NR mask.
 
I WHY DO DISPOSABLE MASKS HAVE AN EXPIRATION DATE? FINALLY, THE ANSWER!
To achieve this filtration performance, the meltblown for respirator masks undergoes a step in manufacturing in which electrostatic charges are added to further enhance particle retention. This electrical charge decreases over time, which explains why disposable masks have a limited shelf-life, even when properly stored in their original packaging.
>I OTHER QUALITIES OF MELTDOWN: its high resistance due to the manufacturing process of nonwoven materials, its breathability since it easily allows oxygen molecules and CO2 to flow through, and last but not least, its lightness. In equal volume, it is 50% lighter than cotton.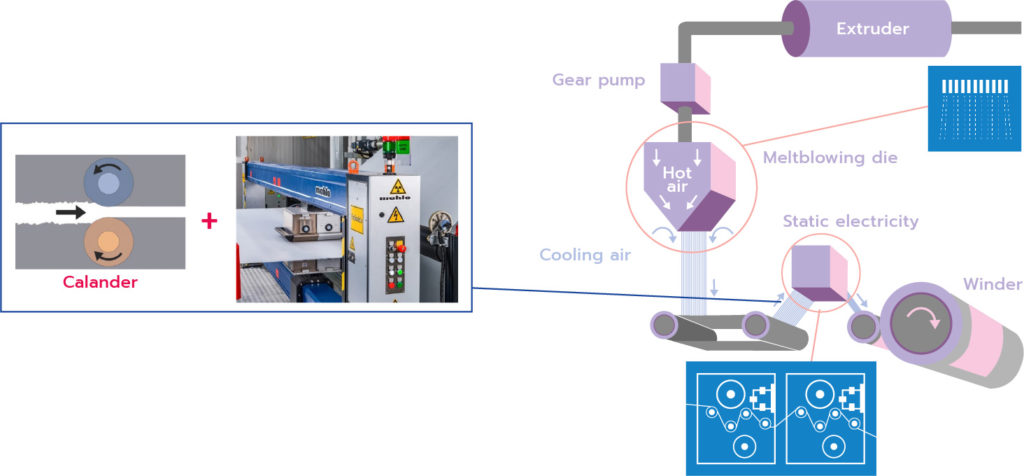 MADE IN
The FFP2 NR mask protects the wearer against inhalation of aerosols, including very small particles. Bacterial filtration efficiency: at least 94% of aerosols of an average size of 0.6 µm (total inward leakage < 8%).

The Type II surgical mask avoids aerosol projection to protect the user's environment. Bacterial filtration efficiency > 98% of an average aerosol size of 3 µm.

The Type 2R surgical mask protects the user's environment and also protects the user from droplet projection. Bacterial filtration efficiency > 98% of a 3 µm medium size aerosol and splash-resistant.